Worship at Trinity
Holy Eucharist Rite II
with music and choir

Sunday School and
Nursery Care


Compline/Healing Prayer Service

4th Tuesday

10:00 AM

Holy Eucharist with Music

Trinity's 10 am Worship Service is televised on Branford Cable Access Channel 18 and AT&T Channel 99 each Sunday at 7 pm.
Welcome!
The people of Trinity Church welcome you.  We are a congregation that embraces all people, from all faith traditions or those who are new to a journey of discovery. We celebrate our diversity.  We are a church community worshiping and exploring the mystery of God, deepening our spirituality, and caring for each other.  We reach out to those in need in Branford, the region and in the world, practicing love for our neighbors. We welcome you.
On these pages you will find information about worship, descriptions of ministries, programs, and activities available to all at Trinity. You may also call the church office or email us to obtain further information that's helpful to newcomers.  A warm welcome to you!
An invitation.
For those who identify themselves as "spiritual but not religious," once you look around this website, you will see the many wonderful things that this congregation believes in, hopes for, and accomplishes. But words and images on a website cannot tell you what it feels like here or what you might experience. Only coming through the red doors and spending some time with us will do that and so we invite you. We invite you so that we may be a blessing to you. And we know that in so doing, we will also be blessed. We do not promise easy answers. Instead we commit to being joyful companions on the journey.
Through The Red Doors
A bit of history… The congregation now known as Trinity Church was founded in the 1700s. Our iconic white church on the town Green was built in 1852, in English Gothic style.  Trinity's bell, weighing 2,500 pounds, was cast in 1869 and also served as Branford's first fire alarm until 1925. The sanctuary is beautifully embellished with striking stained glass windows, three of which are from the Tiffany studio. In 1916, the Parish Hall was erected and served as a hospital for the Town of Branford during the Spanish flu epidemic of 1918.
More ...
Through the Years
Trinity's purpose remains steadfast. We are members of the Body of Christ, worshiping together in an inspiring setting, with meaningful liturgy and uplifting music, all informed by our passion for a transformed world of justice and peace. From the Branford Food Pantry to the mountains of Haiti, Trinity Church is committed to loving our neighbors.

Sermons
Read Rev. Sharon's sermons and Recommended Readings. More...
Upcoming Events
Saturday, April 1
8:00 AM – Trinity's Closet is open to invited participants.  Volunteers assist the shoppers and help to manage the inventory of goods.  Volunteers should arrive by 7:30 AM.
9:00 AM – 4:00 PM – Episcopal Church of CT (ECCT) Spring Training Workshops in Meriden.  Walk-ins accepted.  Carpooling available – contact Rev. Sharon or Ann.
Sunday, April 2
9:00 AM – First Sunday Breakfast  Come and be fed!  Fellowship and good food, what could be better? On the menu this month pancakes and sausage, juice (V-8 and Orange), and coffee or tea. $3.50 adult, $2.00 children, $10 max per family.   Middle school youth will assist the First Sunday Breakfast crew to serve breakfast and cleanup.  
Monday, April 3
4:00 PM Columbus House Ministry     Each month, your donations of Dinty Moore beef stew, noodles, and canned green vegetables help to feed over 80 people. Volunteers take a turn baking cake for dessert, or providing salad ingredients, or serving in the kitchen. This is your chance to let team leader Bobbe Otis know how you can help.
Tuesday, April 4
7:00 PM Trinity Book Group Fates and Furies, by Lauren Groff, hosted by Maureen McGuinness. A finalist for the 2015 National Book Award, and President Obama's favorite book of the year, Fates and Furies is a dazzling examination of a marriage and a portrait of creative partnership written by one of the best writers of her generation. Every story has two sides. Every relationship has two perspectives. And sometimes, it turns out, the key to a great marriage is not its truths but its secrets.
Wednesday, April 5
7:00 PM  This is the last week of the Gospel of Matthew Lenten Bible Study, in the Guild Room   
Saturday, April 8
8:00 AM – Noon  Spring Work Day.   This is perfect timing to spring clean, right before Holy Week begins.  Andy Campbell is organizing the tasks, indoor and out, that help to make Trinity shine.  Bring your work gloves, a little elbow grease, and a couple of hours of your Saturday morning, to help make  Trinity sparkle.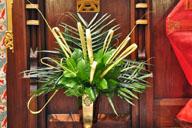 Palm Sunday, April 9, HOLY WEEK begins.
8:00 AM  and 10:00 AM Holy Eucharist services.  At 9:45 AM, everyone, including Sunday School children,  gather in the Parish Hall to process to the Church.  Children then go with the teachers to the classrooms. 
Tuesday, April 11
7:00 PM  Holy Eucharist
Wednesday, April 12
Noon   Holy Eucharist
Deadline for Easter Memorial Lily requests to be included in the Easter Sunday bulletin listing.  Please contact the office.    The form is available here. 
Maundy Thursday, April 13
6:30 PM Agape Meal, Parish Hall    An early Christian tradition… a simple meatless meal with special blessings for the bread, wine and other foods, reflect this meal's roots in the Seder Supper.   Appropriate foods include soup, cheese, olives, dried fruit, bread, and wine.   Signup sheets to indicate attendance and food gift are available in the Parish Hall foyer and by calling the office. 
7:15 PM Holy Eucharist service immediately follows.
8:00 PM  All Night Vigil in the Church begins.   Signup sheets are available, but not required. Keeping watch when you can, staying as long as you choose, also works.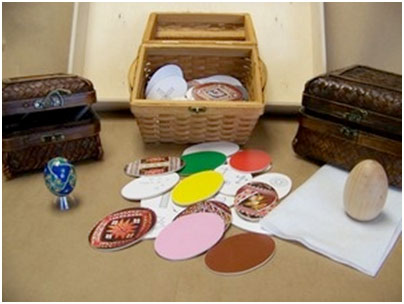 Good Friday, April 14
10:00-11:30 AM  In the Parish Hall, The Story of the Easter Egg  Children and families—but also anyone who enjoys children's stories—are invited to hear this wonderful Godly Play story about how to make real Easter eggs—something many of us have forgotten about. This is a wonderful way to make ready for the great mystery of Easter.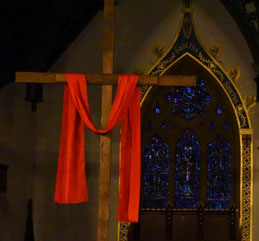 Noon – Ecumenical Cross Walk from St. Mary, eastward to Trinity Church, arriving at Trinity around 2:00 PM.  You may join the Walk at any point.
7:00 PM Liturgy – a traditional Good Friday service with Passion Gospel, dramatic witnesses to the events of that day. 

Easter Saturday, April 15
A day of waiting. 
Easter Sunday, April 16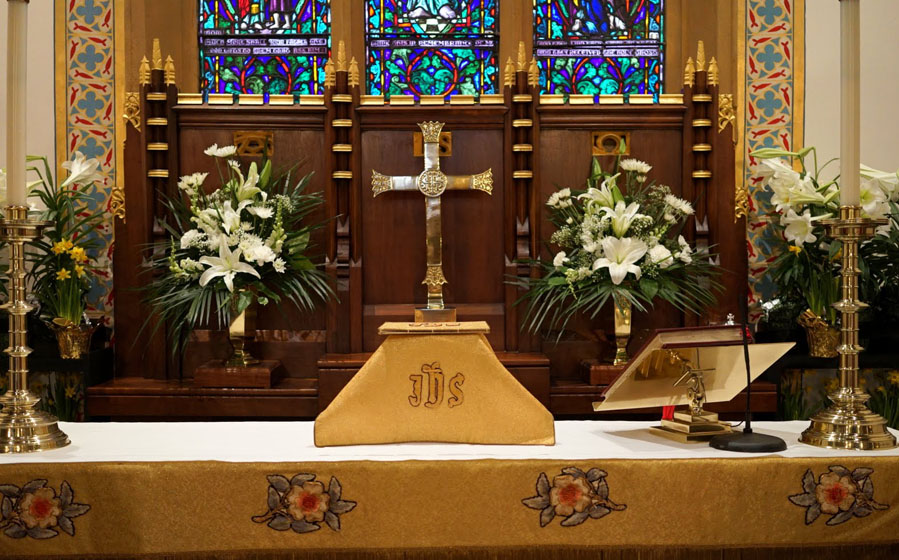 At both the 8:00 and 10:00 Easter Day Eucharists, music for trumpet and organ will be featured before, throughout, and after the services.  During the service the Trinity Choir will offer special Easter anthems: The Day of Resurrection, byThomas Matthews, and A Repeating Alleluia, by CalvinHampton. Both services will close with the singing of the Hallelujah Chorus from Handel's oratorio, Messiah. We invite any of you to join with the choir in singing this classic piece to make it even more glorious and fun!
Following the 10:00, please join the Coffee Hour Celebration in the Parish Hall.  Trinity Feasts are the best when you bake your finest (sweet or savory) and treat us to your culinary fantasies.  Please bring them with you to add to the Easter table.
Monday, April 17
Deadline for The Episcopal Churchwomen In CT Annual Meeting and Luncheon (scheduled for Thursday, May 4) at the Aqua Turf Club, Southington, CT.   Contact Rodney Hayes at rodneyfhayes@yahoo.com for details, schedule carpool, and to reserve a seat.

Saturday, April 22
8:00 AM  – Clean the Green and Branford River and Town Cleanup Day.  Meet in the Undercroft to enjoy a pancake breakfast, courtesy of our kitchen Crew Chief Mitch Rucinski, before we go off to the Green to remove debris and make it safe and welcoming.  Every Branford organization that comes to help with cleanup is invited to breakfast.  This year there are educational groups setting up booths right behind the cleanup work, so no hanging about!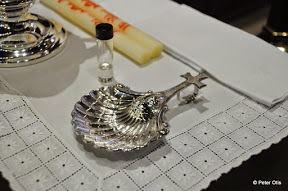 Sunday, April 23
10:00 AM   We welcome into Baptism, Tyler Hallier Sarg, and Oliver Glazewski.

2:00 -3:30 PM  Girl Scouts Tea
Support your local Girl Scouts while you enjoy finger sandwiches, scones and cakes, and a tasty cup of tea!  $25.00 per person.  In the Parish Hall.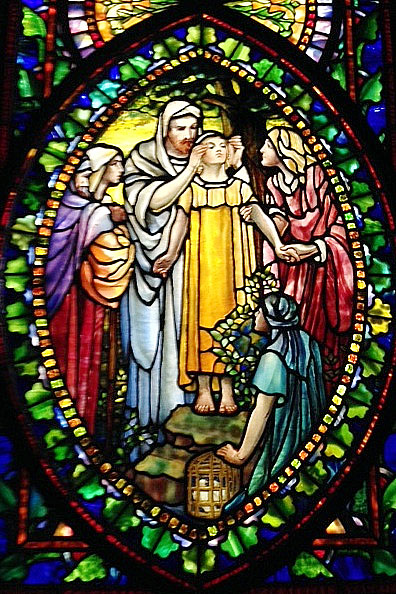 Tuesday, April 25
7:00 PM Compline/Healing Prayer
If you, a loved one or friend, is in need of healing, or if you want to offer up healing prayers for our broken world, please join us.  This is a quiet time to pray for healing, peace, and non-violence.  Join with others to pray together for people listed on the weekly community prayer list.  Please invite family, friends, and neighbors.

Administrative and Standing Meetings

All meetings are open to anyone who wishes to attend.  Participation is welcome.

April 2 – 11:30 AM  Trinity Fair/Library Book Sale admin/organizing meeting

Thursdays, April 6, 13, 20, 27  Choir Rehearsal 7:30 PM, Parish Hall.  Interested in joining the Choir?  Contact Ron Baldwin @ musicdirector@trinitybranford.org.
Wednesday, April 12   10:30 AM Food Pantry Board Meeting, Guild Room
Tuesday, April 18, 7:00 PM, Vestry Meeting
Thursday, April 20, 4:00 PM, Lay Eucharist Visitor meeting
Sunday, April 23 – 11:30 AM, Outreach/Mission Meeting in the Guild Room.  Open to everyone!
First Week of May

Monday, May 1 – Columbus House, New Haven

Tuesday, May 2 – Trinity Book Group, 7:00 PM - Young Men and Fire, by Norman Maclean, author of A River Runs Through It, hosted by Ed Monico. On August 5, 1949, a crew of fifteen of the United States Forest Service's elite airborne firefighters, the Smokejumpers, stepped into the sky above a remote forest fire in the Montana wilderness. Two hours after their jump, all but three of these men were dead or mortally burned. Haunted by these deaths for forty years, Norman Maclean puts back together the scattered pieces of the Mann Gulch tragedy. Young Men and Fire won the National Book Critics Circle Award in 1992.
Thursday, May 4 –
Episcopal ChurchWomen in CT Annual Meeting and Luncheon at Aqua Turf Club, Southington.  Reservations are required.  Contact rodneyfhayes@yahoo.com.
7:30 PM Choir Practice

Sunday, May 7  - 9:00 AM, First Sunday Breakfast, Chef's Surprise!
---
Our News
Enjoy our monthly newsletter, Messenger, full of news, stories, photos and ideas.