Outreach Ministry



Branford | Regional | And Beyond

Mission Statement
The mission of the Outreach Ministry of Trinity Episcopal Church is given to us by Jesus Christ in Matthew 25:31-46; to feed the hungry, clothe the naked, care for the needy and poor among us.  We do this on local, national and international levels.
Members of the Outreach Ministry are the stewards of the funds designated to help those in need inside and outside of our parish. Members research projects in need of our support and presence. Every cake that's made for a bake sale, every donation by every parishioner, and every fellowship supper, helps hungry children, isolated adults, and families in crises in Branford, New Haven, Montana, Guatemala, Haiti, and more. Those in need know our love; and we know more of God's love.
The people of Trinity give continuously, whenever a need is lifted up, including:


Continuing a 25-year-old tradition, Trinity's team cooks and serves breakfast in the Branford Community Dining Room, quarterly. We also provide funding at Thanksgiving.
Thanksgiving dinners for families in Branford (and enough for Christmas, too!), are collected. In November, the Thanksgiving Turkey Drive, which has become a project of several churches, provides over 250 Thanksgiving meals.  We are grateful to our partner Big Y.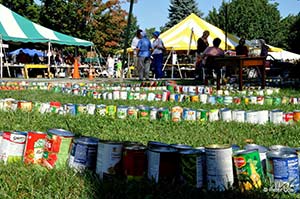 Remembering others when we grocery shop. Baskets in the back of the church collect weekly contributions of non-perishable food, which are regularly transported to the Branford Food Pantry.  Our summer of 2013 challenge to ourselves was to collect 1700 cans of food, with which we built a labyrinth at our annual church Fair. We collected 1,860 cans! 

Supporting Trinity's Closet (which serves clients of Branford social service agencies), with household items such as linens, pillows, blankets, winter coats, basic kitchen items, and personal care items like toothpaste, shampoo, and soap, goes to community neighbors in need, who shop for free in April and October.

Making baked goods, crafts, quilting and needlework, for sale at various events—the Branford Festival,  the Branford Arts & Crafts Fair, and the Annual Trinity Fair.

Buying Christmas presents for children of local families who would not otherwise be able to afford them.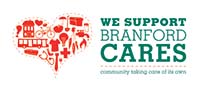 Leading the way to bring Branford citizens together to use what they have to take care of our neighbors who need our help, the whole idea behind Branford Cares.

Every Saturday morning, The Loaves & Fishes Ministry at St. Paul & St. James Episcopal Church, New Haven, offers hospitality and a Food Pantry to between 150-250 working poor and unemployed families in New Haven.  Trinity has contributed groceries, and volunteers to help, for many years.
| | |
| --- | --- |
| Trinity has the longest, continually serving dinner team at Columbus House, a New Haven shelter. The regular meal of beef stew over noodles, with salad and dessert, is a favorite of the residents. The food is contributed by Trinity members, and the Trinity team cooks and serves to at least 80 families every month. | |
| | |
| --- | --- |
| | Helping Crow children soar at The Center Pole in Montana. In addition to health problems, such as obesity, high blood pressure and poor nutrition, there's an extremely high rate of unemployment among the men, abuse of alcohol and drugs, and a multitude of social and criminal problems. Learn more about the Crow children, how we help, and how you can help too. |
| | |
| --- | --- |
| Supporting children's education in Guatemala through a local partner, Common Hope. A number of Trinity members have made trips to visit and meet the children. Trinity's Outreach Ministry supports two students; and a number of individuals in the congregation are supporting others.  We receive periodic reports and updates on the students' progress. Learn more here. | |
See the Annual Report for details of the previous year's accomplishments, and the full list of long-standing and new projects.  Ministry meetings are held monthly, everyone is welcome.
Click here for Trinity's online calendar.
________________________________________________________________________