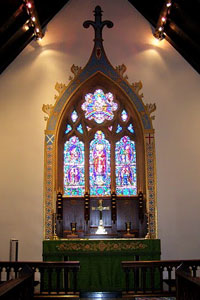 The Trible Altar Window, 1946
Our Mission, Vision and Goals


Our Mission:
Christ

Community

Compassion.

Our Vision:
We believe …

God gives us the gift of life through Christ.
God's glory is reflected in all that we are and all that we do.
ours is a position of both trust and responsibility.

We commit to …

grow in our love for God and one another.
live our lives as faithful and grateful guardians of God's resources.
regularly attend worship, prayer and strengthening fellowship.
use our time, talent and treasure in ministry serving others.
support the financial health of Trinity Church
through proportionate giving and pledging.

We invite each person to …

share the joy, wonder, and mystery of God's presence.
actively participate in our church community.
show compassion, love and generosity as our faith
response to God's gifts.

Our Goals:

celebrate in the spirit of fellowship as we reach out to one another and to warmly welcome all who enter the sacred spaces of Trinity Church.
nurture and care for the less fortunate members of our Church family whether they be sick, lonely, home-bound or in distress.

reach out to those less fortunate both locally, regionally and internationally through our our Mission/Outreach Ministry.

encourage every member of our congregation to be a steward of faith by using the gifts God has given us.

offer a wide array of Christian Education for all ages as each one of us seeks to embark upon our own spiritual journey.

strengthen and grow our ministries to youth.

improve building accessibility/safety for all our sacred places.