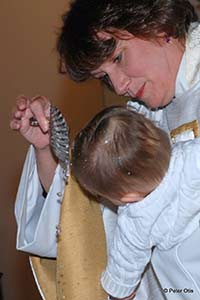 Baptisms, Weddings and Funerals



Baptisms | Weddings | Funerals

Baptisms

Holy Baptism is how you become a Christian. It is full entry into Christ's body, the Church. As entry into the Church, it brings with it an understanding that baptism is not simply the ritual itself; it is the beginning of one's spiritual life as a member of a community of Christian faith. People seeking baptism (for themselves or their children) must demonstrate an intention to make such a commitment at Trinity.  Those being baptized make promises to live in covenant with God. For babies and children too young to speak for themselves, their Godparents and parents respond and make the vows on their behalf.
We celebrate baptisms during our Sunday services, where the entire congregation supports and welcomes the new members into the Christian community. In keeping with Episcopal Church practice baptism is usually celebrated on the following dates:

The Baptism of Our Lord (first Sunday in January)
The Sunday after Easter
The Day of Pentecost (fifty days after Easter Sunday)
All Saints' Sunday (the first Sunday in November)
If you are interested in a baptism at Trinity, please talk with the Rector about baptism and its implications to those being baptized. Infants, children, or adults may be baptized at Trinity Church.  


Weddings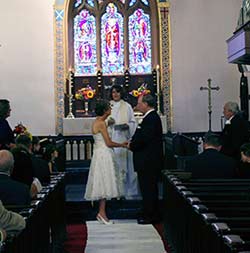 The clergy and people of Trinity Church rejoice with you as you prepare to celebrate the sacramental rite of Marriage. A marriage begun in the presence of God and nurtured in faith is a strong marriage! At Trinity Church we know that a wedding is an important occasion, however, we are most interested in the marriage, and how we can support couples in their life together, and their faith.
Weddings are celebrated at Trinity for members of Trinity Church, and those interested in becoming a part of this community.  We welcome and encourage you to worship with us to decide if this is the faith community to which you feel called, before speaking to our clergy about wedding plans.

All couples to be married in Trinity Church must participate in premarital counseling. In cases of re-marriage, additional time is needed while the permission of the Bishop is sought.
Funerals

The clergy and people of Trinity Church extend their prayers and condolences to you upon the death of your loved one. Trinity Church extends the hospitality of this parish to all those seeking Christian burial.

The death or imminent death of a Trinity parishioner should be reported as soon as possible to the parish office, and arrangements made in consultation with the clergy. Funerals and memorial services may be held at Trinity, or at a funeral home, or crematorium.