Parish Life Ministry


Hospitality | Fellowship | Community Events | Community Organizations at Trinity

Parish Life Ministry provides a wide variety of activities vital to fellowship, community involvement and fun.
Coffee Hour

The Parish Hall is a bustling place after the 10:00 AM service. Coffee hour is a tradition at Trinity, with a twist. The Trinity Grounds—a group of middle school-aged young people--staff the coffee bar and clean up afterwards.  Parents connect while the children have their own snacks and paper-covered tables on which to draw. Newcomers and long-time parishioners make new friends.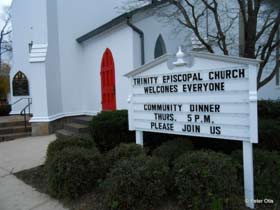 Branford Summer Jazz Concerts

The Green is crowded on Thursday nights during July and August, listening to the jazz concerts.  Free bottles of water are in the cooler on the Church steps for anyone who needs to cool off.

Community Free Supper

Trinity responds to natural disasters that affect all of us, the best way we know that makes an immediate difference.  We cook!  We are blessed with generous donors, suppliers and volunteers, resulting in a delicious spaghetti supper for as many as wish to come.  

Fellowship

We come together to celebrate or enjoy new and old friends, or to share a common interest.  Certainties on the calendar include: the Rector's Holly Party at the Rectory; the Christmas Pageant Party; Twelfth Night Party; Mardi Gras; Picnic on the Lawn, and more. 
Book Group

Members meet monthly October to June, to share book interests and stimulating conversation about the current selection.
First Sunday Breakfast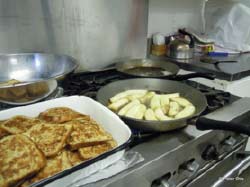 Breakfast between the services, on the first Sunday of the month from October to June, gives social time and a connection between those who worship at different services.  Breakfast helpers serve between 8:00 AM and 10:00 AM.
Tuesday Night Quilters                    
Quilters gather for sewing and fellowship and create a quilt to raffle at the Trinity Fair. They also support various charitable causes, such as pillowcase drives for people affected by tragedy, dresses for Dress a Girl Around the World, memorial quilts by private request, and the Quilts of Valor Foundation.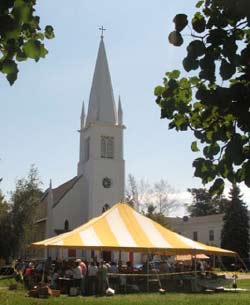 Annual New England Lobster Dinner

The Branford Festival surrounds Trinity Church; and we take part in this huge annual Branford event in several ways. There is always a Trinity Bake Sale of our homemade baked goods, and the Annual Trinity Lobster Dinner.  
Trinity Fair

Trinity Fair is our most important fundraiser of the year. It is over 100 years old, in one form or another. It's always held on the first Saturday in September (rain or shine!), offering food, fun, fabulous treasures, and entertainment for everyone.

Advent/Tree Lighting Night  

The Town Green is crowded on the Saturday following Thanksgiving with eager citizens waiting for the arrival of a parade.  The high point is Santa lighting the Town Christmas tree.  It can be really chilly while everyone waits, so Trinity opens the red doors for those who would like to come inside and warm up with a free hot chocolate.

Community Organizations at Trinity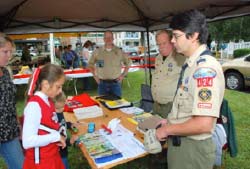 Scouts

Trinity is the chartering organization for a Cub Scout Pack, Venture Crew and Scout Troop. We support the Yankee Council in a policy of non-discrimination - all are welcome to participate in these programs. 

The Scouts participate in various Trinity events and Outreach, and we are thankful for them. 
Meetings

Trinity makes meeting space available to some community groups. Currently Narcotics Anonymous meet on Wednesdays, Alcoholics Anonymous meet on Sundays and The Compassionate Friends meet on Mondays. Please check our online calendar for time and location. Questions regarding these meetings should go directly to these organizations.